First a Basic Explanation, then About Our Investment Portfolio Benchmarking Services
The cost of this service is at the bottom (this is not a software program product).
The name was first coined back in the olden days.
Benchmark portfolios are also known as null portfolios, normal portfolios, comparison portfolios, proxy portfolios, market proxies, benchmark indices, index benchmarks, composite benchmarks, and target portfolios. There technical differences, but they're usually all the same thing.
We talk about the elusive "proper benchmark index" on other pages, but have yet to define it. So here's a metaphor to help:
Assume you want to see how well your training is going in the sport of jumping (where you have to launch with both feet on the ground to get as far from that spot as you can). Also assume there's a fifty-foot bench in the park you're training at. So you decide to set your starting point at the end of the bench.
After a while, you'll know what your average jump distance is on an average day at noon with those shoes. So you pick up a rock and scrape a mark on the bench at this distance. Now you have a point of reference to work with by putting a mark on the bench (that's all there is to it really).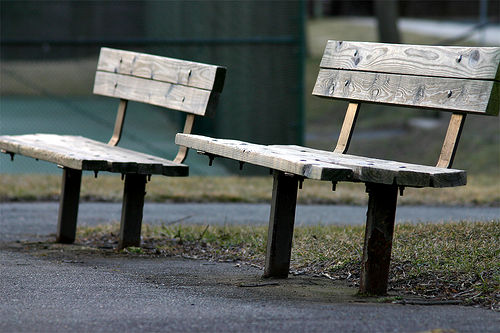 Now say you want to see if something you're doing in your training will help or hurt your standard performance. So you try different stuff and see how it compares to the mark on the bench (the bench mark). For example, you want to try a different pair of shoes (in our case, a different mutual fund selection).
This pair of shoes got you the benchmark distance (the market, or index fund), that pair of shoes got you an inch before the benchmark (ETFs), and the other newfangled pair of sport shoes got you two inches past your benchmark (well-screened mutual fund).
The whole point is to set something up that acts as a "proper" point of comparison reference. Proper is the key word because once you set something up, you cannot do anything to contaminate the point of reference.
For example, if you were to skip breakfast (making it not a normal average day) before you tried a new pair of shoes, and you came up short, then it was probably the fact that you were out of gas that led to your poor performance, and not the new shoes. Skipping breakfast contaminated the benchmark.
In investments, one always needs to keep everything proper to make a correct comparison. To be proper, the benchmark index needs to called something appropriate, have the exact asset classes and weightings, the fees and rebalancings have to be the same, the time frame has to be the same, security trades need to be the same, and cash flows coming in and going out have to be the same. Basically everything has to be the same other than just the ONE thing you're using or testing. The name for this is usually a benchmark model, model benchmark, or just "the shell."
So when investment portfolio benchmarks are set up properly, the only thing that usually changes is an index fund that represents its market and asset class is substituted for an actual investment one held in the Real World.
Usually the purpose of doing this kind of work is to see if an active investment strategy outperformed a passive strategy (after fees and expenses). The investment strategy is constructed in a computer model with the returns of the actual investments held.
Then everything in the model is held the same, except all of the actual investments are swapped out and replaced by the index fund that best represents that asset class. Then the results are compared.
If the benchmark index fund model did better, then the person that picked the actual funding vehicles did not do a good job (because one could have just used index funds to realize better overall investment returns - most likely all with less risk and less expenses). If it did worse, then the manager did a good job of security selection (and earned their money).
For example, say one of the investments was GM stock. When it comes to choosing the proper asset class index, one would find a US large-cap value index (Wilshire 1000 Value), and not a small-cap growth index (Russell 2000).
You see benchmarking used constantly in the investment industry because most everything boils down to how something performed compared to something else. That something else is usually an index of most all securities of the same type (asset class, or the aggregate returns of all similar mutual funds in an asset class). Benchmarking is just the process of how it all gets done.
It's impossible to manage what you can't measure. Benchmarking is the process that appropriately compares and measures investment performance.
One uses custom benchmark portfolios to compare the performance of actual (client) portfolios to an identical portfolio comprised of benchmark indices. To be identical, they have to have the same asset classes, weights (percentage held), and time frames, as the actual portfolio. In other words, a "shell" that is identical to the actual portfolio is created, then funded with indices.
The difference in returns is the value added (or lost) due to "active management." If the actual portfolio made more money than the benchmark portfolio, then the person that actively chose the funding investment vehicles provided that difference in value, because they picked securities that made more money than just the index. If it didn't then the person did not, and the investor would have been better off funding the asset allocation with index funds (or index-like ETFs).
Funding a buy and hold asset allocation with index funds or index ETFs is called a "passive management" strategy.
Active management is jargon that means someone is actively managing the portfolio by implementing one, or a combination of, the three ways to manage money (read about the three ways here).
This is in contrast to "passive management," which typically means just holding a constant mix of indices (although if you use more than one asset class, then you're using asset allocation by default).
The alternatives are to compare actual portfolios made up of different asset classes (cash, bonds, int'l, real estate, technology, etc.) to a single market index (e.g., S&P 500).
It should be obvious (to professionals) that comparing a portfolio comprised of different asset classes to the S&P 500 is just not correct. This is because you want to compare things apples-to-apples, and there are oranges and all kinds of other fruit in the actual portfolio. It would only be correct to compare a portfolio of about 60% Large- and Mid-cap Growth stocks and about 40% Large- and Mid-cap Value stocks to the S&P 500 (because that's what the S&P 500 basically is comprised of).
Another commonly used alternative, is to use mutual fund universe asset class averages like those contained in programs like Morningstar Principia. These are helpful, but have lots of problems, like survivorship bias (when a fund goes under, it drops out of the database which upwardly biases the average returns the month after it's gone), very limited asset class data, and it's hard to use.
In a nutshell, we provide services that can create this elusive proper benchmark shell, for just about anything advisors, or investors, use as their investment strategy. Basically, just feed us a few bucks, and we'll tell you how you did.
With the services we offer, you can pick any monthly time frame you want. For example, if you maintain a model portfolio and your fiscal year ends in August, then you'd probably want data to show at least the one-year, three-year, and five-year returns.
Creating benchmark portfolios is the correct / professional way to compare things. You don't see it used very much because professionals would have to first figure it all out, then shop for software (there's really only one program that gives good data with all of the asset classes over all monthly time frames), then buy it, then learn how to use it, then actually sit at the computer and do it, work out the bugs, then update everything on a monthly basis.
Then most wouldn't want to show the results to clients because it puts the spotlight directly on their performance. It's extremely hard to consistently beat the indices, so they'd get beat up by clients most of the time and have to waste time answering too many questions. They'd rather be on the phone managing relationships than being a computer nerd and answer those kinds of questions, so they just don't do it. It just easier to let sleeping dogs lie than to open a huge can of worms and start a battle they probably won't win.
If you're a financial planner managing money for clients, and you're pretty sure what you're doing is adding value over a passive strategy, then this is a great way to prove you're earning your keep (and why you're better than your competition, which statistics show is the #1 criteria investors use in hiring money managers).
If you're not sure how you're doing - then this will tell you (without having to buy very expensive portfolio management software). You don't need to show the results to your clients if you don't want to, you can just use it for your own use and reference.
If you're an investor, then this will tell you how you and/or your investment managers are really doing. If they're underperforming, then you may be better off doing it yourself.
If you're interested in having custom portfolio benchmarks created using indices represented by generic asset classes (indices), please send e-mail telling exactly what it is you want. It will take a few rounds of question and answer e-mails to provide you with an estimated price.
Basically, you'd send a portfolio (text is fine - all that's needed is the full name of all of the investments and dollar amounts) and a time frame, and you'll get a custom benchmark portfolio shell comprised of the best available fitting indices for each asset class back, with returns looking back over any time frame (as long as the data goes back.
Time frames are in monthly increments only, and are lagged a few weeks because the updates don't come until the second week of each month.
Then you'd just compare the returns to your actual after-fee investment returns and go from there.
The work you'll receive is not protected in any way, so you can reformat, update, and change anything you want to.
All work is confidential and no information is given out to anyone without your permission, period.
Why rack your brains and spend way too much time and money over this? Just let us do it!
If you value your time at $100 per hour, then it's going cost your over $1,000 just to figure out how to do it right. Then that's assuming you already have the $750 per year investment database software needed to do the work. Then you have to do the work, fix mistakes, check everything, format, etc. So you're looking at a total price tag of over $2,000 just to do one benchmarking job. We can usually do this for you for one tenth to one fifth of that cost.
Warning! Getting custom benchmark portfolios made is a big deal that requires work on our part. It is not part of the Bundled Deals, and could cost over $250. Also, unless you're very sure that your way of doing things has beaten the indexes, then you'll probably spend time and money just to be disappointed (in yourself). The reason is because nobody but us has ever beat any benchmark so far. So if your active management strategy beat the passive model, then you'd be the first. Our investor models are the one and only thing we've ever seen anyone do, ever, that had positive alpha over any time frame.
We're just saying that up-front because we don't want you to be mad at us, and feel like you've wasted that time and money paying us for the service. There's a 99% chance that your investment strategy did not beat the benchmark, so please do not shoot us just for being the messenger!
For downloads, right click on a link below, and then choose "Save (Target) As..." to save to a folder on your hard drive. Then open it with MS Word or Excel. Answers to frequently asked demo questions, and how to use demos.
Also download the model software demo, which shows the Fee-based Conservative Model and the Benchmark Index Conservative Model
Download a newsletter explaining portfolio benchmarks
Download an old benchmark study using VA subaccounts
Download another sample monthly "How's your portfolio doing compared to the benchmarks" newsletter"
Download an example of a benchmark portfolio done for a financial planner's four-model 401(k) allocation. This customer only wanted to use two asset classes, so not doing the job on an apples-to-apples basis skewed the results to make their performance look worse than it really was. It has 44 data points in all, shown in green, so it cost $220 to set up the first time, then $22 to update
Download a simple example of a benchmark portfolio for investor models
The cost for creating custom benchmark portfolios is $5 per data point
For example, if you have five asset classes, and you want to see results for five time horizons, then the price would be around $125 (5x5x5). The exact amount won't be known until we start making them. We'll estimate the total price before taking on the job.