An Overall Product Classification, Generic Review, Evaluation of Their Functions, and Detailed Comparisons with Tools For Money
(see the chart at the bottom)

We're trying to do a fair and balanced review, so if you dispute any of this, just send an e-mail and we'll look at it and if you're right, then we'll edit that and give you a freebie to thank you

MoneyGuidePro Review, Evaluation, and Comparison

Generic Description: Sales and marketing tools for Broker Dealer Reps.

Market: BD Reps selling life insurance company products.

Review Date: June '16.

Other Names or Sites They Go By: PIEtech and MGP.

What Module on Tools For Money it Competes With, and is the Best to Compare To: Goals-Only Financial Planner.

Platform: Code-driven in the clouds, but they don't say what language. Not ISO / IEC 27001:2005 cloud security certified.

Read why you should not be working in the clouds when it comes to financial planning software.

Read why Excel-based financial plan software is superior to code-driven software.

Price: $1,200 to over $2,000 if you tack on all of their bells and whistles.

For $1,000 you can buy everything on this site, which provides much more value than just financial planning software.

Annual Update Prices: 100%, so you pay full price every year.

Tools For Money is only 50%.

Finra Reviewed: No, because it has a Monte Carlo simulator. But because MGP is an integral part of The Great Wall Street Cabal, Finra looks the other way and makes a special exception.

Monte Carlo Simulator: Yes.

Buying Caveats: None found (other than it being cloud-based, and this text from their reports: "MoneyGuidePro results may vary with each use and over time.").

Printing: Typical code-based platform where you click print, and it spits out pre-programmed reports in PDF format that cannot be altered by the user (unless you have a PDF editor).

With all Tools For Money software, you have total control over all printing.

Delivery Methods: 100% cloud-based, so all that's delivered are passwords.

With all Tools For Money software, programs are e-mailed after ordering (after that, you'll never have to go online or need an Internet connection for anything).

Number of Computers the Program Will Run On: Only one advisor and one assistant can use it, unless you buy their multiple-user deal for much more money.

With all Tools For Money software, you can also use anything for anything on an unlimited numbers of computers.

Integration and/or Online Downloading: The best integration with other programs and ability to download custodian investment data.

MoneyGuidePro Comparison Conclusions, Comments, Opinions, and Observations

We've changed our business model to, "If you can't beat them, join them."

So instead of whining about MGP, and the damage it's doing to the investing public, we made goalware too). Read about the differences between actual real cash flow-based financial planning software, and goalware.

Our past failure on this review page was comparing apples and oranges.

MoneyGuidePro is not financial planning software. It is a sales tool for Broker Dealer Reps lying, cheating, and cutting every corner possible in order to get out of doing the actual hard work clients erroneously think they're performing, as they pretend to be financial planners; desperately trying to meet their BD's sales quotas by peddling commission-based American Funds and scaring investors into buying life insurance company products (e.g., annuities).

This means it has zero value for do-it-yourself investors (because lying to and cheating yourself with bogus numbers past the first year only has negative value).

Fee-only advisers: Your clients are paying you fees so that you'll give them financial plans with valid numbers. You're not using sales tools to dupe investors into generating commissions to meet your Broker Dealer's sales quotas. Therefore, since MoneyGuidePro is incapable of producing valid numbers, either in pre-retirement goalware mode, or in post-retirement mode, it makes zero sense to buy and use it.

Goals-oriented planners also have little-to-no value to investors after their long term goals, e.g., retirement, have been met. After retirement, MGP stops goal-focused fantasyland mode, goes into a mode similar to the way our RWR's work. So other than their numbers being inaccurate everywhere, most all goalware isn't blatantly fake after retirement begins.

The point here is that when retirement begins, then our simple Real World Retirement planners provide much more value, for only $100 to $250. In addition to the most accurate numbers in the industry, there's a very long list of reasons, features, and functionality that makes MGP's after-retirement programming look like a total joke, compared to our RWRs.

The IFP is real financial planware for creating actual financial plans with valid numbers past the first year.

The same "modes" apply to the investment module. When working with this module, you're not in the goalware world anymore either. Goalware only applies to generic financial planning before retirement.

Here the GOFP works similar to MGP. If the current portfolio is all cash, then you can select one of our existing Model Portfolios. If not, then just use the Comprehensive Asset Allocation Software.

Again, and as usual, the list of limitation with MGP's investment modules is just as long as the list of cool features in our investment software. It's a totally different world comparing what you can model with ours compared MGP.

The bottom line here is that MoneyGuidePro excels greatly in pre-retirement goalware. But once you're out of that module and mode, their financial software is not competitive, especially compared to ours. It just doesn't perform many functions of value, and costs ten times as much as ours, which performs most all functions users want.

In addition to their goalware being fake, the more time goes by, the more confusing and hard it is to use too. Why? Because they're trying everything possible to reconcile fake with actual. Trying to match fantasy with reality doesn't work, and cannot be done, so if you're watching their training videos, and you have no idea what they're talking about, or why this feature even there in the first place, then this is why. They basically didn't do it right the first time, and refuse to change (actually it's not possible to change, because it's not possible to code actual real cash flow-based financial planning software in the clouds, because it's much too complex). So over time, all of these crutches need to be built to stop advisers from whining about it being mostly useless for anything other than being a selling tool.

For example, their Retirement Cash Reserve Concept. This is what happens when MGP tries to integrate fake with real. They're trying to deal with the massive errors and omissions that the pre-retirement goalware causes, when forced to shotgun wed the non-fake retirement phase. This is where fantasyland meets reality. When these two different world's collide, it's just a huge train wreck that cannot be fixed. It can't be done, so the result is convoluted kludges that don't work, make no sense, and is not what happens in the Real World. I'm the most experiences user possible when it comes to this stuff, and I still have no clue why this is even in their program. If it makes no sense to me, then no user or client will understand it ether. The only thing I can think of, is that it's a work-around to solve the problem of planners whining about it's lack of functionality. So they just winged it and made something that limps along enough to stop the whining.

What advisers need to know, is that the failure here is not the lack of functionality, it's the fact that they're doing everything wrong in the first place. The more the adviser knows about how all of this stuff actually works, the more they're going to find out that The Emperor has no clothes. The error was buying it just because your Broker Dealer made you.

Mixing fake with real just doesn't work. Their Retirement Cash Reserve Concept is just another example of what happens when they just do it anyway. So the bottom line here is that the more they try to be not-fake, the more they try to make confusing features and modes to deflect attention away from the inescapable fact that they're just not doing anything right.

So it just turns into a mess so huge, that it would be less time, work, and grief than just biting the bullet and using real financial planning software in the first place.

Know that everything of value MoneyGuidePro can do (other than deals made with other vendors for integration, ability to see more than two scenarios at once, and the mostly useless estate planning module) can be done better, with minimal fakeness and maximum reality, control, and flexibility; using our IFP. Note that the moving confidence meters weren't listed, because that's all fake, so they have little-to-no value.

The IFP also displays all of this information all the time by default. In other words, you don't have to go through all of that confusing input that makes little-to-no sense in reality, to see things like Retirement Cash Reserve, Aspirational Bucket, Allocation Plan, Lifetime Income Plan, or Financial Goal Plan. You just go to those presentation sheets, and what you want to know is just there automatically. That's just what actual financial planning software does.

Then, since the IFP is in Excel, you can also use Excel's built-in Goal-Seek function to perform an endless list of What-Ifs that MGP will never come close to being able to do. So other than things that depends on integration, to get data and useless portfolio statistics (from Morningstar, like beta, standard deviation, Sharpe, etc.), then there isn't anything you won't be able to do, that MGP can do, if you have both the IFP and the GOFP.

Also, their Client Portal is not a unique feature, because if an adviser wants to let the client play with the plan, then can just e-mail them the program with their input. Then the client has access to all inputs, not just a few, and they don't have to go online, login, and/or have their personal financial information exposed to the world for hackers to exploit.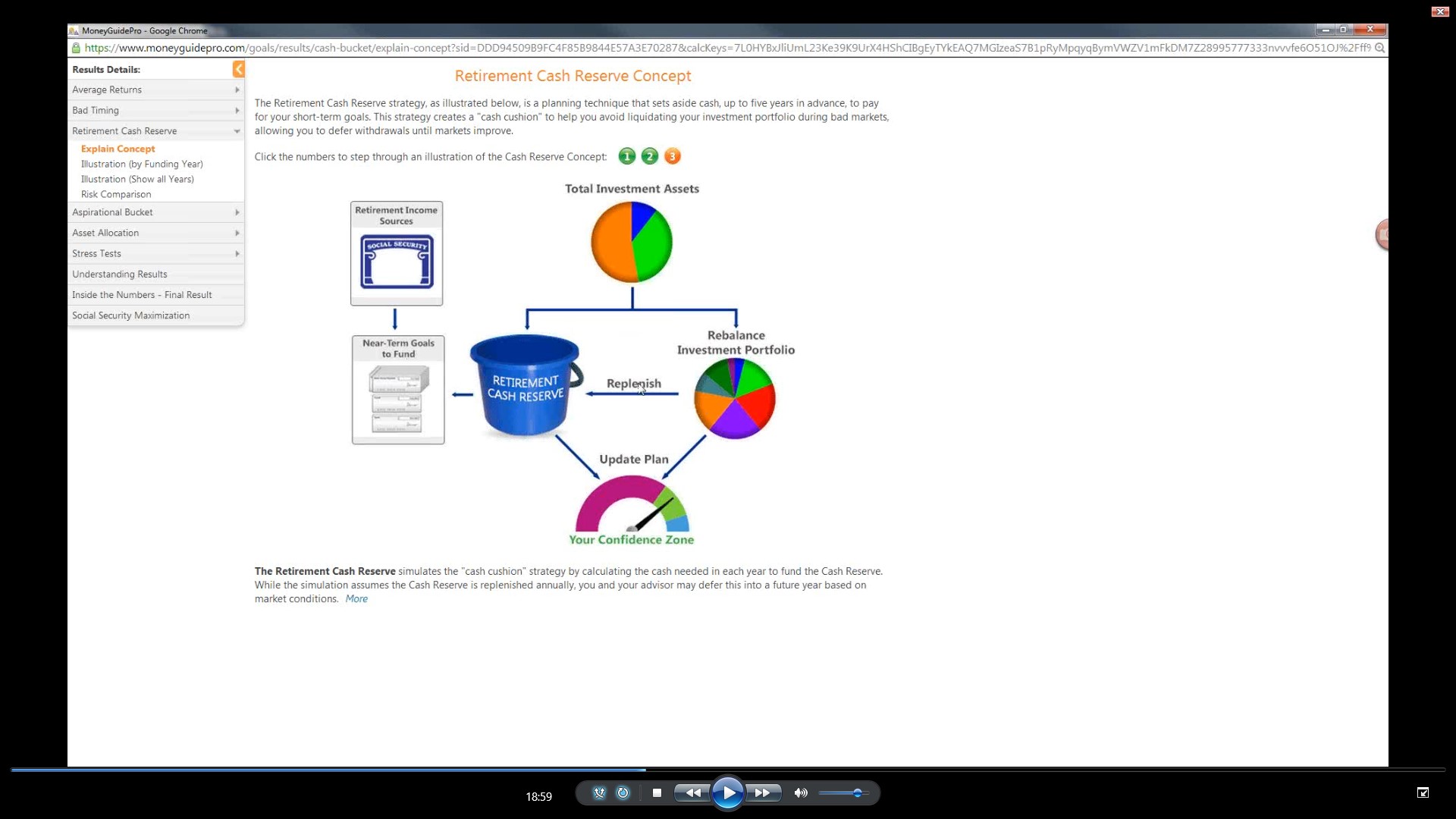 They say in their disclaimers, "All results use simplifying assumptions that do not completely or accurately reflect your specific circumstances." This is a true statement. Goalware simplifies everything to the point that none of it has anything to do with reality whatsoever.
So these two types of planware are not comparable.
The IFP is real financial planware for creating actual financial plans with valid numbers past the first year.
The upcoming GOFP is what will compete with MGP in the goalware space. Look for demos, free trials, and being able to use it around mid-June '16.
The table of feature comparisons below still has value while the "MGP Exterminator" is being developed.
Then their whole Social Security module is stupid, wrong, bogus, deceptive, insidious, and is a big of a fat lie as it gets.
When making a real financial plan, using real financial planning software, and fresh numbers directly from Social Security, all you need to do is run two of the exact same scenarios.
In one, input getting Social Security at 70, and in the other, input 62. The plan using 62 will be better every time. It only looks better with MGP (and other goalware) because that's what goalware is programmed to. It's programmed to lie with bogus numbers because that's how BD Reps sell more life insurance company products. It's just as simple as that to understand.
The only time anyone performed any actual analysis whatsoever, using this boring stuff called data, logic, facts, and math, resulted in the conclusion that you should always take it ASAP. Unless you're taking advantage of a loophole, that Social Security just closed, and goalware stills runs along as if it was still there; there is no scenario that will ever result in making more money by waiting. It's just not possible, because it's the main function of their actuaries to ensure that this is always so.
That's the truth. Everything else is just a lie designed to sell you something that's bad for you.
As you can see below in the Probability of Success row, which are the results of the fakest Monte Carlo simulator in the business, MGP shows waiting as long as you can to collect Social Security retirement benefits is best. So this is just a bold faced lie, because it doesn't even take basic things like the time value of money, inflation, or the risks into account. Remember that goalware does not take anything of value into account, which is why it's fake. Right click to download it so you can see it better.
Reports are in PDF, so you can't do anything with them. You can use fancy PDF editing software, but that's so many times the work as using Excel that it's a joke (them saying that it's easy, simple, and fast). It's easy, simple, and fast to print reports, but there's little-too-no beef and then you can't do anything with them. So you can only manipulate reports to look well printed by reinventing the printing wheel (so you're better off just using Excel directly so you can skip all of those steps needed to reinvent the wheel).
It's just beyond belief that everyone keeps letting them get away with these shenanigans year after year! Like the old saying goes, "Evil only wins when good is silent."
The truth is on this site, so read it until you get it, then say and do something good for a change. Quit failing and start producing quality financial plans. MGP is not even low-quality financial planning software, because it's not even financial planning software at all.
It's just a bunch of BS designed to help sell life insurance company products. So their saying, "Everyone deserves a high quality financial plan", is also just not believable. It's totally believable that an evil-doing Wall Street corporation can run amok, lie to everyone, and wreak havoc on the world for decades, and nobody even notices.
What's not believable is how y'all just sit there baffled with a blank stare and do nothing about it. Actually, that's totally believable too, because you can't do anything about this Wall Street cabal, so you have no choice but to baaaaaa and be a sheeple and go along with it.
Y'all, and investors, not getting that; and not making the appropriate fuss, is what's not believable. Y'all whine profusely about little things that don't matter, like mutual fund management fees; but the big stuff that's actually ruining lives (including your own), y'all are totally oblivious to.
That's what's not believable. So I call MGP a Species-level Failure that can't be fixed. Like the comedian says, You can't fix stupid!"
So all we can do is get with the black hat program that y'all just can't get enough of, and make better, cheaper, and less fake goalware.
The picture below from their website showing their corporate office should be an obvious tip-off to their evil-doing business model. It's the Alien Predator here on Earth preying upon the sheeple (you, the BD Rep). This wasn't an accident, they spent big money putting that there for a reason. The reason is they want everyone to know who they really are and what they actually do.
What y'all don't get, is that YOU are their prey. Every time you give them money, it's like them succeeding on their safari, and taking your scalp as a trophy (or since you're a sheeple, more like your fleece). They think they're superior beings (compared to you) out on safari here on Earth, collecting easy scalps of the sheeple. It's just as simple as that to understand their business model: Fleecing of the sheeple for fun and profit. In the movies, the Predators only hunt humans that are also evil-doing predators. They leave the innocent alone (AKA fee-only RIAs and clients with functioning brains). So they're only preying on those humans that are out hunting the weak of their own species for fun and profit - which is the BD business model in a nutshell.
They couldn't care less that all they do is wreak havoc and ruin lives. All they care about is that you voluntarily give up your fleece, and then your clients' mutton; just so they can have your scalp as a trophy - which is what you do every time you feed the beast with your money.
What a hoot! An evil-doing Wall Street corporation not even bothering to hide their actual business model, "Yup, we're as black-hat as it gets, and our prey has no clue what we're doing to them. All perfectly legal too. Isn't America Great! Show me the money; I mean your scalp, fleece and mutton!"
The image below shows an example of MoneyGuidePro's deceptive business practices. What they're doing here is pretending their software is not fake, and then trying to get you to believe that the US Department of Labor "approves" of MGP's "quality financial planware."
Just a few minor issues with this top-level deception: First, in order to create a financial plan, one must use actual financial planning software. This means one has to either use our IFP, or NaviPlan, because MGP is the leader in goalware, and thus is incapable of producing an actual financial plan - even a "low-quality" plan.
Next, a quality financial plan can't be created unless the user accounts for all of the mundane details that are needed to create a real financial plan. Little minor details like inputting budget and cash flow incomes and expenses, accounting for annual surpluses and deficits and replacement costs, performing an actual investment risk tolerance test instead of having someone move a meaningless slider, and an endless of critical Real World variables that MGP just completely ignores.
Next, they may be surprised that the government is not is as oblivious, nor as easy to get to rubber-stamp approval of Wall Street shenanigans, as they have been in the past. What they're doing here is thinking that, and hoping that, the government remains oblivious to reality, and just keeps believing that MGP is actually financial plan software.
This time may be different. The government may have grown enough brain cells to finally get it on this round of at least attempting to actually do something to fix all of these massive failures. In which case, someone with the required attention span will eventually get around to calling shenanigans, and banning goals-based software completely. All one needs to do is read the image below, figure out how MGP actually works, and then it should be obvious that the two things are diametrically opposed to each other - and thus the text in the image is just a big fat lie that needs to go the way of the dinosaurs.
MGP is the kind of software that is THE epitome of what the government needs to ban, if they want advisers to start acting like fiduciaries, instead of used car salesmen. So MGP is trying every dirty trick in the book to deflect attention away from the fact that DOL is out to change the color of advisers' hat from black to white.
MGP is the #1 "enabler" in the industry that allows advisers to keep their hats as black as possible. In other words, if MGP was banned, more than half of unsuitable investment recommendations (if you want to call life insurance company products investments, which is laughable), would magically vanish overnight.
So they have a team of high-paid marketing lobbyists pulling out all the stops to ensure these deceptions continue to wreak havoc on investors for all time. And they're the best in the industry too. You probably have read this and thought, "Okay, so MGP is working with the DOL to ensure it makes quality financial plans that meet the new fiduciary standards. What's unusual about that?"
HA!!! If so, then that's an example of how good they are at pulling the wool over your eyes. If they can deceive you, then also deceiving the failed government just happens by default. They're not doing anything to work with anyone. All they care about is that the new DOL Fiduciary Rules won't affect them at all. That's the main goal they're trying to accomplish. And they'll probably succeed too.
In this case, they're just pointing to a sign that says, "Nothing to see here, move along," and hoping that the DOL reads it and thinks, "I don't know squat about financial plans, let alone the difference between a low-quality and a high-quality financial plan. C'mon, I'm just a government employee with zero financial skills, education, and experience! MGP is bold enough to put a big thing on their website boasting that their software makes quality financial plans. I guess it must be true, so I'll just move along and look for something else to whine about elsewhere."
They think the government is so stupid, that they'll just read the sign and move on. They may be right, as this is what always happens when they try to stop Wall Street shenanigans. Wall street just outthinks, outguns, and outspends them, and thus gets whatever they want, most every time.
Critiquing their text: No MGP cannot help, it can only hurt. There's not one thing that MGP does that a true fiduciary would approve of. What's the source of this "recent survey?" C'mon, it's MGP, there's no survey. They just made it up, it's just a fake falsehood deception, just like everything else they do.
Then they left out by far the #1 obstacle to "creating a financial plan" in the Real World in their pie chart. Creating an actual financial plan is hard work, and advisers (especially BD Reps) just do not perform any kind of hard work anymore, period. Since the beginning of time, they've just gotten used to the fact that any and all deceptions can be used to move life insurance company products, using minimum work and maximum shenanigans, regardless how Black Hat they are; and everyone thinks it's just fine. Well, those days are slowly coming to an end, with the new DOL Fiduciary rules being hopefully the first step.
That's THE problem in the industry since '05 or so. If there's any actual work / time / thinking / attention span / skills or education required, or reality involved, or any "knowing what you're doing;" then the average financial adviser will just say no.
Why? Because they don't have to. Why work when you don't have to? Nobody is forcing them to perform actual work. Nobody has in the past, nobody is now, and more than likely, nobody will ever force financial planners to actually be financial planners in the future.
These days financial advisers are too dumb, broke and broken, sleep-deprived, confused, lazy, technically challenged, and incompetent with near-zero attention spans, to create a financial plan - even a non-quality financial plan.
BD Reps demand goalware that will allow them to make commissions while performing the bare minimum of work, while making it look like they actually did some work to clients. This is what MGP specializes in - the great "Quality Financial Plan Deception."
Nobody does it better, and it's just the end result of letting all of these massive government failures fester since the beginning of time. All of this is just as simple and easy to understand as that.