Prices and ordering information are below the sales funnel images
Explanations and directions are below that

Financial Planner Marketing, Prospecting, Sales, and Closing Tools to Help Keep Your Sales Funnel Full of Leads, Suspects, Prospects, and Clients

These non-industry-specific sales tools are mostly for commission-based financial planners working in Broker Dealer mode (AKA selling loaded mutual funds and life insurance company products). There's value for fee-only advisors too.

These are not for "consumers," unless you need inexpensive help with basic sales skills, more core motivation, or you just like sales tips in sound bite form.

They're designed to help you increase your sales funnel ratios and are old, basic, and primitive compared to other professional database-driven tracking, CRM, and marketing systems. But they also don't cost an arm and a leg and there's still plenty of value, especially for the unsupported price.
This Product is Comprised of:
• A few cold calling phone scripts used back in the "good 'ol days," before the advent of the government's Do Not Call list. They're designed as lame teasers to get people to agree to either let you come into their homes and/or get them to come into your office for the first "free complementary introductory meeting."
• Several generic letters for sending to leads, suspects, prospects, and clients, as they progress through your sales funnel. Most are designed as pre-appointment letters to help convert suspects into prospects, to help ensure you don't screw up, and to help make it so they'll actually show up for appointments. They tell what to bring with them, give homework assignments, and in general help move them glitch-free through your sales funnel ASAP.
• Sample investment newsletters so you can get an idea of what to do here. Most every professional financial advisor or money manager sends out at least quarterly newsletters both to let their people know what's going on with the firm, to keep them interested, and of course to drum up new business and referrals.
Since most custodians are too lame and/or broke to send out quarterly investment portfolio reports these days, most investment advisers spend tons of time and money on actual portfolio management software on their own, so they can send paying clients the actual quarterly reports they expect and deserve.
So it's a natural way of course to include a piece that comments on the economy, markets, and what happened to both everyone's portfolios as a whole, then comment on what happened on an individual client basis.
• Mundane checklists to follow before you dial the phone and/or get ready / pack up to go out on an appointment.
• A simple referral getting tool that actually works.
• Over two dozen pages in Word docx form (which is about 75 pages of hard copy book) of motivational tips, how to handle common objections, and miscellaneous sales tips for the financial services salesperson. Way too much to list here.
I read just about every financial sales book from '88 to '91. Then I distilled most everything of value into this piece that was read weekly, to motivate me. BTW: Some of the best sales books on the subject were published in the last century by the late Zig Ziglar, one of the best whole life insurance salesmen of all time.
Most everything is generic and is not in a form where you can just pick it up and use it. So you'll need to edit most everything to fit your practice model.
________________________________
The following images are examples of sales funnels that are apropos to financial planning marketing.
The most important thing to note is that not everyone you get to enter it (at the top) will come out of the bottom (the goal is to get as many people as possible to come out at the bottom).
For example, in the first image, 1,000 leads went in, and only five turned into paying clients. This is close to a typical ratio in the commission-based BD financial planning business (between 0.5% and 5%).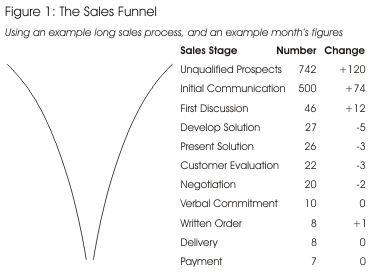 Buy with your Visa or MasterCard by calling (800) 658-1824
Buy now using the secure credit card ordering form
| | | | |
| --- | --- | --- | --- |
| Everything is a Word Docx sent via e-mail attachment | | E-mail Supported: | |
| Sales Tools Without Sales and Motivational Ramblings | $10 | $60 | $100 |
| Sales Tools With Sales and Motivational Ramblings | $50 | $105 | $150 |
Prospecting and Marketing Tools Explanations and Directions
Everything is referenced by its Word docx file name to help keep it straight. So this is a good way to tell what you'll be getting, as everything is listed below.
• Appointment Checklist.docx - Use this sales tool as a checklist either before you leave the house for an appointment, or before prospects are due to show up at your office.
You basically list all of the things you usually do, like calling to confirm the day before, and use - like your business card, sales brochures, and Fact Finders. So this will help you get all of your ducks in order so you can sail through your Dog & Pony Show without messing up because of something mundane.
What you want to do is think about all of the things you'd usually use, and then add them to the checklist. Delete all of the things that don't make sense, because they're just examples.
So depending on how organized you are, you want to type in things like - get gas, don't forget your briefcase, reload stock of business cards, charge your phone, and don't forget to schedule the good conference room. Then always keep a copy in your brief case, taped to the wall where you make your calls, etc.
• Pre-Dialing Checklist.docx - Used when making cold calls. Short lists of things to do before, during, and after dialing to have your ducks in order when the lead answers. This marketing tool is not really used anymore because of the government Do Not Call list. But it has some tips if you're on the phone a lot.
• Comparing the True Cost of an IRA.docx - One-page sales piece on the total costs of doing business with different types of financial advisors on the food chain / pyramid. This was used in the early 90's as a fee-only planner.
The point was to show people how much they'd have to spend if they didn't hire a fee-only advisor. This is so old there's probably no use for it anymore, unless you jazzed it up with modern-looking art and colors (it was made with WordPerfect on a Windows 3.1 machine, and hasn't been updated other than making it a Docx).
Directions: If you're a fee-only independent planner, then you could edit this piece to fit your deal and it could get the point across to some people. Then you'd give it out to people you've just met to at least have something to talk about.
New Flash: Decades of hitting people up about investment costs, charges, fees, commissions, and expenses when it comes to hiring a financial advisor does little-to-nothing. It's just over the last several years that investors started caring about how much money their investments really cost them. Then these are just the minority, but very vocal, do-it-yourself (DIY) investors that have their lights fully-turned on.
Tip: You don't want to peddle to them because they're not going to buy anything but ETFs with the lowest expense ratios. Then they're going to be the "highest maintenance" clients.
On the whole, investors still don't care, but for a whole new set of reasons. What they care about these days is not having to take any responsibility, not having to use their non-existent attention spans, think, research, take any risks, do any actual work or anything at all other than write checks and watch it grow online and via mailed statements.
So if you're out and about trying to get people to do biz with you because your investment strategies cost the least, then here's another news flash - that's not going to work in a big way. You'll find some, but not many. Then these investors are just going to nickel and dime you to death, because they're on the same page as you - let's reduce all investment costs to the bone - and yes, this means they're going to start with your paycheck first.
So investors that care about reducing investment expenses are usually not what you want as long-term clients. It may work initially to get a small flock of people in the door to get some income going ASAP, but over time it won't work out well.
What investors these days want, and what pays you the most with the least grief, is the ability and your willingness to let them dump the whole thing on your lap (piles of statements), including the responsibility for doing everything and taking all of the risks and blame, you make all of the trades without having to ask, pay a reasonable fee or commission, don't waste their time they don't have unless it's important, then the ability to look at portfolios online and then just get statements that actually make sense in the mail showing constant profits (good luck with all of that!).
Then they want someone to whine to when there's not constant profits. So the best clients are the ones that want to pay you to do it ALL for them. Then as long as you don't screw up, they're not going to whine when they get your bills over time. They're just going to ignore it and rarely call you about these minor issues.
Penny-pinching investors do not make the best clients. People looking for a close personal life and financial advisor to totally do this annoying chore for them is what pays the best, gives you work to do, stay the longest, and give the most referrals.
All of this "race to the bottom" stuff when it comes to investment expenses is a game you don't want to even play. This is for DIY investors, and they don't make good long-term clients because they're going to constantly whine about you getting paid, and they're always going to be challenging your moves and sucking your time away by having to explain every little thing you do ad nauseum.
So it's best to just ignore the (ETF) investment expense ratio wars in the media. Regardless of what you think, more than likely the only one that cares is you. And you only care because it's the current fad.
• Prospecting Ideas (for planners).docx - Old list of prospecting ideas that were only a little better than cold call leads. Most probably don't work anymore because of local governments restricting access to this sort of data because of privacy concerns (there were only 386 computers running Windows 3.1, so corporations having all of your data in digital form to profit from wasn't a problem back then).
• Prospecting Phone Hits Counter.docx - Used to keep track of how successful cold calling is going using a certain list of leads. For every week, you'd tally how many calls you've made daily, how many people answered, how many times you talked with the decider, then how many actual appointments you've made, then which script and/or method worked or not.
Then if you didn't make an appointment for a dozen calls, then put a "-1" input into the far right column. The goal was to stay at it until it was +4, which meant you made four appointments with new people per day.
It's probably not that useful nowadays because of the Do Not Call list, but if you do things where you're calling on people, then this could help you see how well you're doing in reaching those calling goals, by keeping track of ratios and what actually worked. Where it could be used today is managing the herd of upcoming financial seminar attendees.
Then the Do Not Call list only applies to consumers, not businesses, so you can still cold call businesses all you want to.
• Referral Getter.docx - This marketing tool actually works. You'd print and give or send it to people almost constantly throughout the process with a pre-stamped envelope going back to you. Then every so often, if you're worthy, you'd get some back in the mail at random with free referrals! This is something every financial advisor should still be doing all the time today, as it only costs a buck.
• Case Writing Checklist.docx - Used when working as a case writer (paraplanner) working in-person for reps. Does anyone do this anymore? If so, then you may be able to get some use out of it, if you ask what all that means.
• Financial_quarterback.tif - This is an image file to help show you how the financial planner sits in the middle of the circle of all other advisors. Print it and use in your Dog and Pony Show if you want to, then talk about how the financial planner coordinates with all of the other financial professionals in their lives.
• Choose Services.docx - A generic piece that helps get the prospect to tell you what they want you to do for them. Print and give to them during the initial meeting and then always stuff it into envelopes sent to them during most phases of the process, just like you're supposed to do with the Referral Getter tool. If someone actually circles something, then they're telling you what they want to hire you for.
• Before First Appointment Letter.docx - Send something like this out a few days before you have a first appointment with someone. This reminds them about the appointment, has your contact info, time of the meeting, directions to the meeting place, and generic sales fluff (like stuff to bring via the Homework piece).
• After First Appointment Letter.docx - This is an example of a contact letter you should sent to everyone you have a first appointment with. Send it out the same or the next day after the appointment, so they'll get it ASAP after your first meeting.
To repeat, whenever you send anything in the mail both Choose Services.docx and Referral Getter.docx should go with it.
Also, tell them non-generic stuff, like you're going to do what you said you were going to do in the appointment, and then remind them if they have any homework to do too (so you could send Homework for First Appointment.docx too).
• Approval to Sell Stocks Letter.docx - This is self-explanatory. If you're with a BD, then you probably do not have "full discretion." This means you can't just buy and sell investments in client accounts without getting permission first. So this is a sample letter to send to investors to have them sign and send back to you giving you this permission.
• Level of Services.docx - Use this piece to tell prospects what level of financial planning and/or investment management services you'll provide. This usually depends of how much money they'll be paying you in one way or another, so you'll have to edit this to fit your practice.
Just tell them, "If you let us manage $X then we'll do all of this for you, and for $X we'll do that plus this." This piece is usually used in person, but it may find use in a letter or handout before the first appointment. It also doesn't hurt to send it again after the first appointment.
This sales tool will help you gather more assets the client may be "hiding" from you because when they realize they'll get more from you if and when they pay you more, they may "remember" that they have more to work with then they initially said.
• Homework for First Appointment.docx - Include in pre-first-appointment letter, or others if needed. This is a checklist to remind people to bring documents with them to meetings. Edit the list to fit your practice. There's also a goal section on the second page to get them to write out their short-, intermediate, and long-term financial goals. There are directions on the piece and most of it is self-explanatory.
• Independent Philosophy.docx - This two-page piece is about some of the advantages of working with an independent fee-only financial adviser, from the clients' point of view. So if you are one, then just edit it to fit your practice and include it in most all mailings.
• Mailbox Stuffer.docx - This prospecting tool may be of use if you have any interest in going around physically and stuffing them into people's mailboxes. If you target the right area and edit it well to fit your deals, then you may get some leads (without having to spend money on "mailers"). People will see that it wasn't mailed, so someone actually stuffed it in there, so they'll tend to read it more than junk mail. Laws change, so check with the Post Office to see if this is still legal!
• Post First Appointment Letter.docx - This is a generic letter you send to prospects after the first appointment. There's not much here, just a thank you, then you make your list of questions you'll need answered before the next appointment so you can make your financial plans.
• Pre-Plan Presentation Appointment.docx - This is another generic letter you send to prospects before the financial plan presentation appointment. There's not much here, just a thank you, then you make your list of questions you'll need answered before the appointment.
• Prospect Call-In Letter.docx - This is another generic letter you'd send to prospects if they call you or return something in the mail. Basically, thanks for contacting us, here's more generic sales fluff, and either we'll call to make an appointment or a reminder of when and where the next meeting is. It works well to send to people that have initially responded to your financial seminar marketing.
• Second Appointment Letter.docx - This is a sample letter to send to prospects after the first introductory appointment and the second fact finding get-to-know-you appointment. It basically says that this appointment will take much longer than the Dog & Pony Show appointment, and then here's homework to do to prepare, and the appointment is at this time and location.
• Send After Not Making the Sale.docx - A short letter to thank people for listening to your Dog & Pony Show, but not wanting to proceed with the process. We usually include the Financial Planner Evaluation.docx piece in hopes that they'll return it so you can learn from your "mistakes."
• Financial Planner Evaluation.docx - A generic form to get people to tell you how you did, how you can improve, and what financial topics they're interested in.
• Send Letter After Meeting Referral Letter.docx - A short thank you letter to send to clients after they give you a referral and you've actually met them.
• Sending a Fact Finder Letter.docx - Add some relevant text and send this letter with a Fact Finder and a self-addressed postage-paid envelope. Hopefully they'll fill it out and return it, so you can proceed with the process.
• Suspect Letter.docx - A sales letter to send to people that you think may be a prospect. It goes on about how the fee-only business model is the best and knocks the other ways of getting paid (read above about why that doesn't work anymore).
• Newsletters - Several samples of newsletters that financial advisors send to their clients periodically. They just show some examples of what is usually sent.
• Scripts: Any Warm Body.docx - This is a default generic old hat cold calling script for calling anyone.
• Scripts: Generic Fee-only Script.docx - A default cold calling script for fee-only advisors. It has some comeback suggestions to say when needed and has a small section with things to say when people say they're already taken care of, aren't interested, want to think about it, etc.
• Scripts: Old Hat Script.docx - This was the default generic old hat cold calling script for talking with a suspect to try to get them to meet and turn into a prospect.
• Scripts: Recent Death Referral.docx - Generic sales script used to get people that gave you referrals related to people that just died to meet with you. You used to be able to just keep tabs on the local obituaries and then cold call, but that was the last century.
• Scripts: Recent Death.docx - Generic sales script used to get people related to people that just died to meet with you. You used to be able to just keep tabs on the obituaries and then call, but that was the last century.
• Scripts: Recent Marriage.docx - Generic sales script used to get people that just got married to meet with you. You used to be able to just keep tabs on that via the local newspaper and then call, but that was the last century.
• Scripts: Referral Script.docx - Warm calling a referral for the first time sales script to get them to come into the office for the first "free introductory meeting."
• Sales and Marketing Motivational Ramblings.docx - These are THE big gold nuggets of wisdom in this bundle of sales tools (38 pages full of the best gold sales and life management nuggets you'll find anywhere, which is about 125 pages of a normal hard copy book).
I put over 3,000 hours into this for over a dozen years. I could easily turn this into a 500 page hard copy "basic life and sales skills for dummies" book, but there's not enough money in that since the advent of self-published "eBooks" where everyone on the planet "has a book out" (and then it's free or only a buck).
When I made the transition from reclusive Silicon Valley engineer to salesy people person in '88 (which never happened BTW, which is why I still do Toolsformoney and am not a way rich and famous money manager!), I read just about every sales book out there.
This was in addition to our Waddell & Reed sales managers, whom I have to give credit here, as they were awesome at this. They basically trained us how to "sell ice to Eskimos," which is today still the modus operandi of their basic cold-calling hard-selling commission-based business model.
I constantly made notes and condensed huge complex concepts into sound bites. The whole point is so I could read something in less than an hour to motivate me to get off my butt and change my life from loser to winner. So whenever I felt down, I'd read this and I'd be back at it again the next day.
So there's a bazillion tips on basic life management, motivation, prospecting, sales, comebacks, marketing, and especially closing the sales deal. There's lots of stuff to take a "slacker loser" and help turn them into a lean and mean salesperson over time. Major life-altering brainwashing was needed for me, and this kept me on track when I wanted to give up.
Basically if you have a "job" where you work at something where you make a living "selling stuff" to others (or just having to constantly convince others that you're right and everyone else is wrong, like just about every attorney in court, CEO, politician, or doctor), then there's all kinds of life-changing tips in these two Docx pieces.
These are a must-have if you are a "sales manager" of any kind where it's your deal to grow a force of sales people out on the front lines of business war. Whenever someone comes to you with a challenge in this area, there's probably a section that has something to do with resolving it.